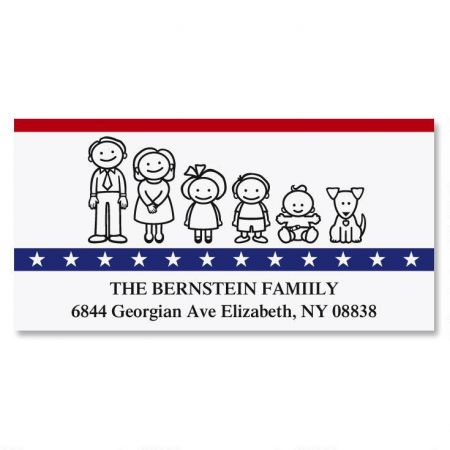 Our Patriotic Family Deluxe Address Labels
SAVE $1.00 each when two or more address labels are purchased!
Celebrate your family bond with our family address labels. Choose the icons that represent your unique family and we';ll surround them in red, white, and blue. Set of 144 self-stick personalized address labels, all one image; 1 1/8" x 2 1/4".

Family Member Codes

Choose up to 6 customized family member icons.

1. Make a note of which icons you would like to use (they may be repeated)
2. Click "Add to Cart" and enter the letter codes in the order you'd like them to appear. Please do not use spaces or commas between letters.

Specify icon (s) and 1st line, up to 35 characters and 2nd line up to 50 characters.
P = Papa
N = Nana
F = Father
M = Mother
O = Older Boy
T = Teen Girl
B = Boy
G = Girl
I = Infant
D = Dog
C = Cat