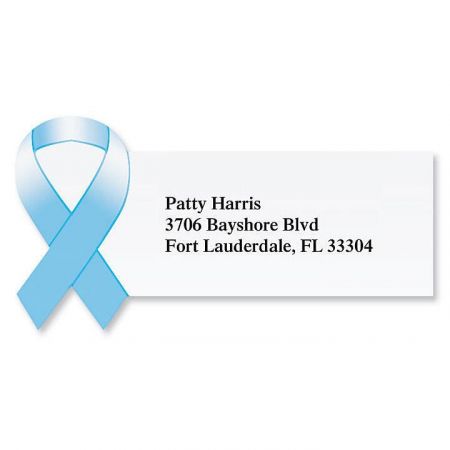 Awareness Ribbon Diecut Return Address Labels
Proudly promote awareness for the cause that is closest to your heart. Choose from ten different colors representing a variety of causes. You receive 144 self-adhesive personalized diecut labels, each measuring 3/4" x 2-1/4". We'll print them with the name and address, message, or information you choose.
Specify block or script and 3 lines of personalization, up to 26 characters.
Specify: blue, red, white, yellow, green, orange, purple, brown, pink, or silver
Blue Ribbon Causes:

Arthritis·ChildAbusePrevention·Education·Hurricane·Police Lost in Duty·Teens Against Smoking·Victims Rights·Water Safety·Colon Cancer·Gout·Free

Red Ribbon Causes:

AIDS·Cardiovascular Disease·CourageandInspiration·DARE·DUI·Heart Disease·Hemophilia·Love·Aids/HIV·MADD·Stroke·Substance Abuse·Tuberculosis·Alcohol Substance and drug abuse (includes inhalents)

White Ribbon Causes:

Adoptee·Anti-Child Pornography·Anti-War·Blindness·Bone Cancer·Child Sexual Abuse·Hernia·Holocaust Remembrance·Hope & Support·Molestation Survivor·Osteoporosis

Yellow Ribbon Causes:

Support our troops·Alternative Medicine·Amber Alert

Green Ribbon Causes:

Bone Marrow Donation·Enviroment·Freedom·Glaucoma·Kidney Disease·Mental Health·Missing Children

Orange Ribbon Causes:

Agent orange exposure·Cultural Diversity and racial tolerance·Hunger·Leukemia

Purple Ribbon Causes:

ADD·Alzheimer's Disease·Animal Abuse·Anti-Violence·Crohn's Disease and colitis·Cystic Fibrosis·Domestic Violence·Epilepsy·Homelessness

Brown Ribbon Causes:

Anti-Tobacco·Colorectal Cancer·Tobacco Awareness

Pink Ribbon Causes:

Birth Parents·Breast Cancer·Nursing Mothers·Cleft palate

Silver Ribbon Causes:

The silver ribbon campaign for the brain*#169 for brain disorders and disabilities - includes traumatic brain injuries (TBI)·Dyslexia
We found other products you might like!